To clean and care for your prescription eyeglasses, follow these eight guidelines.
You devote significant time to locating the ideal pair of glasses. First, you seek the perfect frame shape and a pattern or color that shows your personality. Then, you patiently await the fitting of the lenses and the call informing you that your new eyeglasses are ready for pickup.
Don't you want to do everything you can to extend the life of these glasses?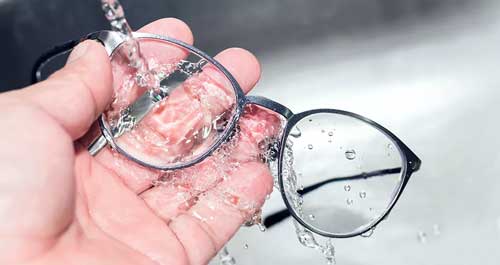 1. Rinse
Tips for cleaning your eyeglasses.
Never wipe or clean your glasses without first rinsing them with water.

Even tiny debris of dirt or dust can decide your lens, and if you wipe the ones round on a dry lens, it may be unpleasant.
2. Spray Carefully
Use cleaning sprays that are specifically created to wash eyeglass lenses.

Never use home cleaners like soaps or any liquid soap. As a result, it'll peel off the lens's coating.
Avoid using harsh chemicals or abrasives when cleaning your eyeglasses.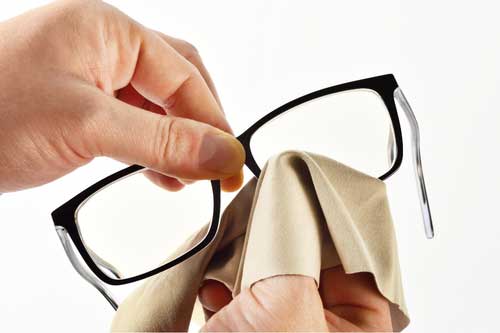 3. Always use Micro Fibre cloth
Never dry your lenses with paper towels, tissues, or napkins.

Regardless of how soft they are to the touch, all those fabrics have a textured floor that can damage the lenses.
Clean your eyeglasses regularly with a soft microfibre cloth.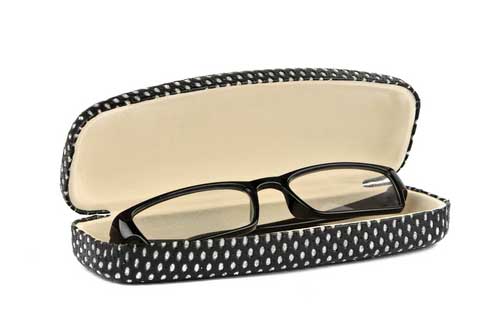 4. Store Properly
Store your eyeglasses in a safe place when not in use.

Keep your glasses in a protective case wrapped in microfiber cloth once you aren't wearing them.
5. Place Carefully
Please don't place your glasses the other way up on a desk or counter or carry them in a pouch. This can cause scratches on them.
6. Wash Often
Your lenses will remain in their best condition if you wash your glasses at least once a day. The cleaner your glasses, the less your eyes must be compelled to strain to ascertain through smudges, dirt, and dust.
Underneath lukewarm water, clean the lenses to rub the dirt. This preserves the integrity of the lenses' coating of protection.

7. Take them off using two hands instead of one
This holds the ear parts straight and aligned. They stretch and loosen up when you remove them with one hand.

8. Don't put your glasses on the top of your head
This could distort the form, and there's a more significant probability of them drop-off and getting damaged.
Be careful when handling your eyeglasses.
Don't When Cleaning Glasses
Especially if the lenses are dry, AVOID wiping your glasses with your shirttail, blouse, or other articles of clothing. This could result in scratches on your lenses.
Wetting your lenses with saliva is not a good idea.
DO NOT clean your eyeglasses with household glass or surface cleaners. Ingredients in these products can harm eyeglass lenses and coatings.
DO NOT wipe your lenses with paper towels, napkins, tissues, or toilet paper. These can scrape or stain your lenses and leave them filthy.
DO NOT attempt to "buff" a scratch out of your lenses. This merely exacerbates the problem.
Cleaning Cloths And Eyeglass Cleaners
Spray eyeglass lens cleaners are available at your local drug or Optical store and where you buy your glasses. These are useful if you're traveling or don't have access to clean tap water.
If you don't have access to running water, use plenty of the spray eyeglass cleaner to wipe your lenses of dust and other particles before wiping them dry.
If your lenses have an anti-reflective (AR) coating, ensure the eyeglass cleaner you purchase is compatible with AR lenses.
Before using disposable lens cleaning wipes, check for dust or debris on the lenses. Before wiping the lenses, blow any debris off to avoid scratches.
Cleaning glasses using microfiber cleaning cloths are a breeze. These cloths dry the lenses quickly and capture oils to keep them from spreading.
However, because the clothes are so excellent at trapping waste, make sure you clean them periodically. Allow the cloth to air dry after hand-washing with a lotion-free dishwashing liquid and clean water.
How to Get Rid of Scratches on Glasses
Unfortunately, scratched lenses do not have a magical solution. Once your glasses have been scratched, they cannot be repaired.
Some products are intended to make scratches appear less noticeable. The majority of these items are waxy compounds that quickly wear off. Depending on the position and depth of the scratches, these products produce varying results. They also frequently smear anti-reflective lenses.
Scratches can weaken the impact resistance of your eyeglass lenses, in addition to reflecting light and interfering with vision. If your lenses become scratched, replace them for better vision and safety.
Please don't wear your eyeglasses when doing activities that could damage them.
When shopping for lenses, look for ones that have a scratch-resistant coating
Cleaning Of Spectacles By A Professional
Get your eyeglasses professionally cleaned and adjusted as needed.
Return to where you bought your glasses if your lenses are in good shape, but the nose pads or other portions of the frame have become tough to keep clean.
An ultrasonic cleaning instrument used by an eye care specialist may be able to deep-clean your glasses. They can also replace yellowed nose pads with new clear ones.
Glasses do not stay permanently.
All eyeglass lenses will accumulate a few scratches over time. Therefore, scratch-resistant, not scratch-proof, lenses are used in eyeglasses.
Inspect your eyeglasses regularly for damage. Following the above guidelines is the most accessible approach to keeping your glasses clean and scratch-free for as long as possible.
Schedule an eye test with an eye doctor near you if your lenses are badly scratched, your eyeglass prescription has expired – or you want new glasses.
Keep a backup pair of eyeglasses in case your primary pair is lost or damaged.
Eyeglasses Care FAQ.
Q: Why is maintaining your spectacles so important?
A: Taking good care of your eyeglasses will help guarantee they last longer and correct vision as effectively as possible.
Q: How frequently should I wash my eyeglasses?
A: To get rid of dust, smudges, and bacteria, you should clean your spectacles at least once a day.
Q: What kind of cleaning solution should I use on my glasses?
A: Use a microfiber towel and lens cleaning solution to clean your eyeglasses. It would help if you didn't use paper towels or garments because they might scratch the lenses.
Q: Can I clean my spectacles with soap and water?
A: The lenses of your eyeglasses can be damaged by hot water, so it's essential to avoid using them when cleaning them with soap and water.
Q: How should I keep my spectacles stored?
A: When not in use, keep your spectacles in a case for protection. As heat can harm the lenses and frames, avoid leaving them in the sun or a warm vehicle.
Q: Can I adjust my spectacles if they feel slack or uncomfortable?
A: A professional adjustment will ensure your eyeglasses fit comfortably and are perfectly aligned. Self-adjustment can result in harm or exacerbate the issue.
Q: How frequently should my spectacles be inspected?
A: A professional optician should examine your eyeglasses at least once a year to ensure they are still giving the best vision correction.
Q: Can I wear my spectacles in the shower or while swimming?
A: Because water and steam can harm spectacles, wearing them while swimming or taking a shower is not advised. The lenses may become fogged, distorted, or even shatter due to this.
Q: Is it okay to use vinegar or alcohol to sanitize my eyeglasses?
A: It is not advisable to sanitize your eyeglasses with alcohol, vinegar, or other abrasive chemicals because they can damage the lenses and coatings.
Q: What should I do if my spectacles break or become damaged?
A: Bring them to an expert for maintenance or replacement. Wearing broken or damaged spectacles can lead to headaches, eye strain, and other eyesight issues.
Q: How about when I perform sports or do other physical activities? Can I wear my glasses? 
A: Protective eyewear made especially for sports and other physical activities is usually advised. Regular eyeglasses may not offer sufficient defence and may be susceptible to harm.
Q: How can I keep my glasses from fogging up when donning a face mask?
A: Ensuring your face mask fits snugly over your nose and cheeks can help avoid fogging. Other options include using an anti-fog spray or wiping your lenses with a bit of dish detergent and water, then rinsing and drying them.
Q: If my spectacles have an anti-reflective coating, how should I clean them?
A: Abrasive materials should not be used to clear lenses because they could scratch or harm the coating. Instead, use a gentle lens cleaning solution. A specialty cleaning solution made for anti-reflective coatings is another option.
Q: Can I put my contacts on top of my eyeglasses?
A: Wearing eyeglasses over contact lenses is not advised because it can be uncomfortable and could impair your eyesight. Ask your eye doctor for the best choices for your vision requirements.
Q: Can I fix my broken spectacles with eyeglass repair kits?
A: Eyeglass repair tools can be helpful for quick fixes like tightening slack hinges or replacing a screw. However, it's best to transport your severely harmed glasses to a professional for repair or replacement.