Thank you for visiting Eye Contact Optician, your dependable source for cutting-edge vision solutions. In this article, we examine Miyosmart Lenses' ground-breaking invention and how it has transformed how myopia is managed in youngsters.
Nearsightedness, often known as myopia, is a worldwide issue that has to be addressed. We now have a revolutionary approach to myopia progression with Miyosmart Lenses, which guarantees a better future for children's vision health. Join us as we examine the attributes, advantages, scientific support, and global accessibility of Miyosmart Lenses, which Eye Contact Optician currently offers.
The Growing Burden of Childhood Myopia
A severe public health problem, myopia now affects millions of kids globally. Myopia is becoming more common, and it progresses most quickly in children. Myopia can result in potentially serious visual issues as an adult if it is not treated. It is crucial to tackling this problem head-on, and Miyosmart Lenses provide a ground-breaking method for managing myopia in young people.
The Breakthrough: Miyosmart Lenses
Miyosmart lenses are a revolutionary development in myopia control. These lenses differ from traditional spectacle lenses because they feature the ground-breaking Defocus Incorporated Multiple Segments (D.I.M.S.) technology. Miyosmart Lenses allows kids to select frames that match their taste, thanks to their seamless fitting experience. Miyosmart Lenses' extraordinary quality and effectiveness have been acknowledged globally, winning them numerous honors and significant prizes.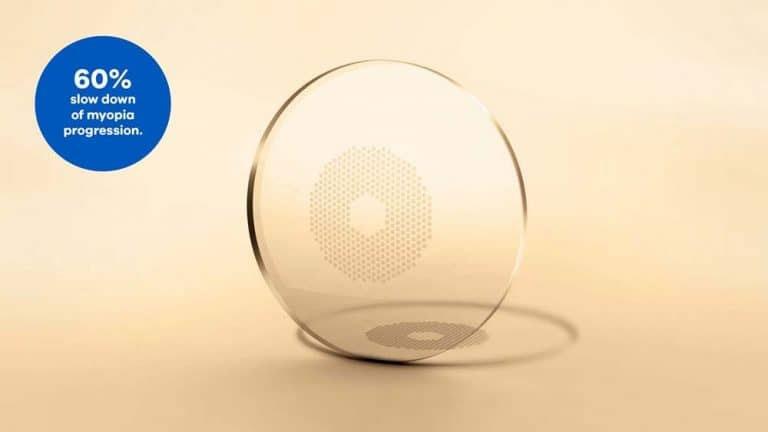 Unveiling the D.I.M.S. Technology
The exclusive Defocus Incorporated Multiple Segments (D.I.M.S.) Technology is the brains behind Miyosmart Lenses. This innovative technique slows the progression of myopia while correcting visual flaws throughout the entire lens surface. Miyosmart lenses alternate focus and defocus zones to create a ring-shaped treatment area, enabling sharp vision and effective myopia management. The ophthalmological community has given D.I.M.S. Technology substantial attention and praise for its innovative approach.
Miyosmart Lenses' Effectiveness is Scientifically Validated
Numerous studies have supported the usefulness of Miyosmart lenses in slowing myopia progression. These studies, published in prestigious journals, have shown that Miyosmart lenses have a beneficial influence on myopia control. According to research, children who use Miyosmart lenses have much less myopia progression. These lenses are reliable for treating childhood myopia due to their efficiency and scientific legitimacy.
Design for Active Lives: Features and Benefits
Active children have their needs taken into consideration when creating Miyosmart lenses. They have a distinctive anti-reflective, long-lasting coating that guarantees sharp vision and offers the best scratch resistance. The lenses also have an eye shield for U.V. defense and impact resistance, protecting young children's eyes in various settings. Children wearing Miyosmart lenses have prioritized visual clarity and general well-being thanks to cutting-edge technology and sensible design components.
Our Commitment to Global Access
Eye Contact Optician provides Miyosmart lenses to as many people as possible. These lenses are available at our store for a starting price of Rs. 16,000, and we are pleased to do so. It is crucial to remember that different nations may have varied levels of Miyosmart Lens availability. We recommend stopping by our shop or speaking with one of our eye care specialists if you need more specific information about availability and pricing.
Conclusion
Myopia is becoming increasingly common among youngsters, making the need for efficient myopia control methods more pressing than ever. With their ground-breaking Defocus Incorporated Multiple Segments (D.I.M.S.) Technology, Miyosmart Lenses, offers a revolutionary method for controlling the progression of myopia. Due to their scientific foundation and design for active lives, Miyosmart Lenses give children clear vision and a better future for their visual health. Explore the world of Miyosmart Lenses at Eye Contact Optician today, and join us in preserving children's eye health.